Become a PCS volunteer! Have you ever had some extra time and thought you might like to volunteer somewhere? If so, check out our volunteer web page. We may have a need that would fit your skill set and your available time. We love our volunteers!
VanTastic!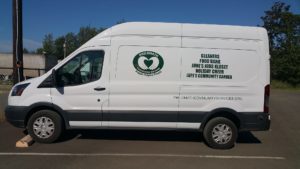 Philomath, Oregon. July 2018:  Thanks to all the donors and grantors that made this possible! This "new to us" delivery van makes a huge difference in supporting our programs. Watch for our van out and about and be sure to wave and say hello!
United Way Day of Caring – 2016.
Lupe's Garden, Philomath, Oregon. 2016: 40 Hewlett Packard employees volunteered their time at PCS for a half day to celebrate the United Way Day of Caring. They pulled weeds, hauled bark and wood, cut weeds, grass and blackberries, mopped floors, washed windows, cleaned a walk-in cooler, power-washed racks and the parking lot. The 40 volunteers did a great job and we're thankful for their help! Thank you Hewlett Packard employees for your caring and concern for PCS.
Philomath Community Services  – Board of Director's Minutes 2016
        August, 2016:  click here
      September, 2016:  click here