Notice: Due to health concerns, the Food Bank and Gleaners programs are no longer accepting drop-off produce donations at PCS.
---
Hours: Mondays 12:30 to 3:30 PM and Saturdays 12:00 to 4:00 PM (closed holidays)
Contact program manager Patty: (541) 829-[three]980
---
---
Philomath Community Gleaners help to feed the hungry by harvesting local food that would otherwise go to waste and distributing it back to our gleaner members. In 2022, 362,697 pounds of food and other items were distributed through this successful program. Note: the woodshare program for fire wood is not in operation at this time.
A unique feature of this program is that gleaner volunteers are able to share the food that they harvest with "adoptees" or those people who cannot physically glean food but still have needs for one or both.
The Philomath Community Gleaners program is affiliated with the Linn Benton Food Share's Gleaners program and follows its guidelines and policies.
Click here to check out our flyer!
---
---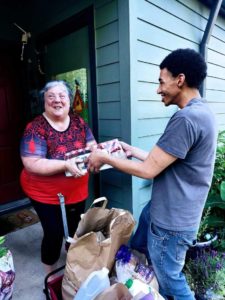 Gleaner Household Definition 
A Gleaner household is defined as a household with at least one adult able to volunteer. All who are living at the address in the application are counted as gleaners. Children of a minor age (12-17) may be considered to volunteer under approved adult supervision. Gleaners are expected to share 50% of their field with adoptees. Each gleaner household must contribute 8 hours per month to remain in good standing. Gleaners are able to vote, participate in monthly meetings, and help with fundraisers when possible.   
Adoptee Household Definition 
An Adoptee Household is a household where no member is capable of performing the gleaning program's hours of required service. Philomath Community Gleaners are not required to homebound adoptees, however this option will be reviewed on a case by case basis. Adoptee households are encouraged to help but are not required to put in volunteer hours. Adoptee households have the same rights as gleaning households. Adoptees are able to vote, participate in monthly meetings, and help with fundraisers when possible.  The Gleaning Program Manager (Coordinator) and Gleaner Advisory Committee may review adoptee status periodically. 
2023 Gleaning Program GUIDELINES  
300% of Federal Poverty Standard 
In order to receive donated food, you must have a household income equal to or below 300% of the poverty income guidelines set for Oregon. This chart will help you determine whether or not you are income eligible to join a gleaning group. 
To sign up for our program, please call our Program Manager (Patty) at 541-829-3980 or the Program Secretary (Alicia) at 541-231-7127. We look forward to helping our community.