HP Makes Massive Donation!
September 15, 2018:  June's Kids Kloset (JKK) recently received a gigantic donation of 128 pairs of pants from HP's PageWide Press team! This was JKK's second largest number of items ever donated. And guess who provided the largest donation a few years ago??? You guessed it….HP PageWide Press! Thanks HP for your continued support over the years. Our community is better because of you!
---
2018 National Night Out
National Night Out is an annual community-building campaign that promotes police-community partnerships and neighborhood
camaraderie to make our neighborhoods safer, more caring places to live. National Night Out enhances the relationship between neighbors
and law enforcement while bringing back a true sense of community. Furthermore, it provides a great opportunity to bring police and
neighbors together under positive circumstances.
We were part of the event this year on Tuesday, August 14th held at Philomath City Park. Our volunteers enjoyed sharing with our Philomath
neighbors the services PCS offers.
---
VanTastic!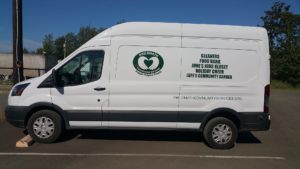 Philomath, Oregon. July 2018:  Thanks to all the donors and grantors that made this possible!
This "new to us" delivery van makes a huge difference in supporting our programs.
Watch for our van out and about and be sure to wave and say hello!
---
United Way Day of Caring – 2016.
Lupe's Garden, Philomath, Oregon. 2016: 40 Hewlett Packard employees volunteered their time at PCS for a half day
to celebrate the United Way Day of Caring. They pulled weeds, hauled bark and wood, cut weeds, grass and blackberries,
mopped floors, washed windows, cleaned a walk-in cooler, power-washed racks and the parking lot. The 40 volunteers did
a great job and we're thankful for their help! Thank you Hewlett Packard employees for your caring and concern for PCS.